Under the high patronage of Mr Emmanuel Macron, President of the Republic, the EMERGING VALLEY Summit took place on 20 November at the Palais du Pharo in Marseille and on 21 November at thecamp in Aix en Provence.
It was an opportunity to meet and exchange with the entrepreneurs of the future. 100 Startups, incubators and investors from more than 25 countries gathered in two exceptional locations: the Palais du Pharo and thecamp.
Organized in partnership with StartupBRICS and MCO Congrès, with the economic media La Tribune and with the support of the Conseil Départemental 13, the City of Marseille, the Metropole Aix-Marseille Provence and the Chamber of Commerce Marseille Provence, Emerging Valley aims to establish the region as the key innovation hub between Africa and Europe and between Africa and emerging markets.

Through seminars, participative workshops and conferences, national and international investors and entrepreneurs exchanged views on the problems of digitalized Africa.
Provence Promotion, the economic development agency of the Aix-Marseille-Provence Metropole, was able to mobilize and welcome two delegations of Tunisian and Brazilian start-ups bringing together more than twelve projects: six companies and a Tunisian accelerator in partnership with Euroméditérranée as well as seven Brazilian companies in partnership with Business France.
On this occasion, several economic actors presented the territory's assets: Franck Araujo (Accelerator M), Amandine Begel (ZeBox), Frédérick Bouyssi (IMM), Virginie Lambert Ferry (French Tech Marseille), Stéphane Magana (Henri Fabre), Silvia Mazerin (Ilovit), Gilles Piccatto (CCIMP), Hichem Radoine (Surho Consulting), Benjamin Sperling (Novahub) and Valentin Vanier (ARII).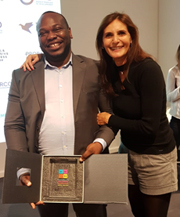 Lifi Led, a company of Ivorian origin recently established in Provence, came to share its experience of the territory and received the "Invest in Provence" label.
Following these two days of conviviality and shared knowledge, Provence Promotion continues to work with its partners to support companies whose aim is to establish themselves in Provence.