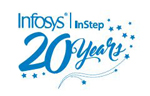 Infosys, the Indian leader in IT technologies, has recently moved to Marseille, thereby opening up a brand-new world to engineering students at Aix-Marseille University. In partnership with the university, the group is now offering students the opportunity to join its InStep Internship Program. The latter is recognized worldwide for the quality and diversity of its offerings. Infosys works on hundreds of projects around the world, enabling interns to develop their expertise in numerous areas including artificial intelligence, robotics, IOT, digital transformation, energy solutions, etc. Students who are selected for an internship will be hosted at the immense international campus in Bangalore. It's a unique opportunity to acquire specialized knowledge in the cutting-edge field of their choice.
Infosys inaugurated its digital center of excellence in Marseille last June, and the company is once again showing its interest in the region.
As India's leading IT consulting and services company, the group sent a clear message to engineering students in Provence, asking them to commit to meeting tomorrow's challenges in IOT (internet of things), artificial intelligence, global warming, and digital security.
As part of the group's partnership with Aix-Marseille University (AMU), a special session was held to present the InStep Internship Program to AMU students studying artificial intelligence, computer science, software and databases, and IT systems governance.
Enrollment is open until December 15. Students will benefit from the special attention of AMU teams, Infosys Marseille, and InStep program managers for this initial session in the region.
More than twenty students have already started the application process. Some of them are choosing their projects while others have already completed their Skype interview. This single interview is a decisive one: successful candidates will work on one of the 600 projects available on the huge Bangalore campus, one of Infosys' main campuses, bringing together more than 25,000 people (employees, partners, and students).
Bangalore: The Silicon Valley of India

Infosys makes every effort to ensure that its InStep Internship Program is accessible to all. In October 2018, the career intelligence company Vault ranked it as the best overall internship program in the world.
This unique internship experience will enable students to acquire high-value skills, meet and work with international students, discover Indian culture, participate in a career development project, and build a professional network—all within a leading group on international market.
Each year, 1,200 people apply to the InStep program via online registration on the InStep website.  One hundred and forty talented individuals are expected to join the Bangalore campus, which is at the forefront of new technologies.
Infosys: A Few Key Figures
Founding year: 1981
Revenue (2017): $11.31 billion
Global presence: 45 countries
Number of employees:  217,700
Opening in France: 2000