17 MARCH 2019 / BUY A COMPANY, INVEST IN PROVENCE
The company is specialized in the transformation of plastics by rotational moulding
Thirty years after its establishment in Gémenos, Polyroto, a company specializing in the rotational molding method of plastic processing, is embarking on a new chapter. In January 2019, the company was acquired by Kchouk Holding under the direction of Slim Kchouk. A mechanical engineer and former head of Siemens for Tunisia and Morocco, Kchouk plans to double the company's revenue over the next four years. His meeting with Provence Promotion was a decisive moment. The expertise of the economic development agency in Aix-Marseille-Provence enabled the French-Tunisian Holding to put down roots in the ecosystem of Provence and find a solution to its financing needs.
In 2017, after illustrious professional careers at Schlumberger and Siemens, brothers Khelil and Slim Kchouk, who are trained electrical and mechanical engineers, respectively, decided it was time to strike out on their own. "We started looking around for a company that we could buy and build into a thriving business with our knowledge and technical expertise", said Slim Kchouk.
The brothers' parallel careers took them around the world, but they both had a soft spot for France. Slim learned that the 75-year-old owners of Polyroto, an SME based near Marseille in Gémenos, were looking for a buyer. Provence Promotion noticed that the company was for sale during a "Go Between in Provence" workshop in La Ciotat, which focused on providing guidance on the acquisition of companies.
A production factory in Bizerte and the added bonus of dual French-Tunisian culture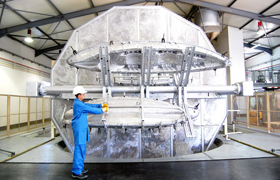 It was love at first sight. "I was enchanted by this Provençale SME, which was a good fit for my skill set and had a production site in Bizerte. Understanding the culture of both countries is an asset", said Slim Kchouck, based in Tunis. The company employs 55 people: 48 in Tunisia and 7 in France. They plan to hire three sales representatives in the next three years and to double their revenue to €4 million by 2022. "Our strategy is based on strengthening our sales teams. The International Roto Process factory in Tunisia presents an opportunity to grow exports to Africa, among other places", said the new manager.
To maximize his chances of success, he called on the local economic development agency. "I heard about Provence Promotion from the consulting firm In Extenso. The agency put me in touch with the mayor of Gémenos, Réseau Entreprendre, Total Développement, IRCE and EBRD International. We also obtained a €40,000 interest-free loan from PACI Aubagne (*) to acquire the company. An acquisition is like boarding a moving train. You have to know how to observe, be humble and trust your staff", said Slim Kchouk.
Polyroto has 350 customers in the nautical industry (canoe, kayak, paddle, etc.), the environmental sector (rainwater collection tanks), the automobile sector (gas tanks), construction (tool boxes) and urban real estate.
(*) Member association of Initiative France.