08 MARCH 2019 / E-COMMERCE/E-TOURISM, START YOUR BUSINESS
Anchoring in the territory for this high-end design company
Melville, a high-end designer furniture and lighting company, in support of the Marseille architectural firm BK-Club Architects, participated in the renewal of the Mucem VIP lounge. In the heart of the 1st major national museum dedicated to the Mediterranean created by the architect Rudy Ricciotti, facing the sea, the seawall and the blue coast, the setting of this project was prestigious. A dream market for all companies in its sector. Franck Mouly, creator of melville, is proud to have been chosen to collaborate on this project. Since its establishment in Aix-en-Provence, its company has established itself in the region and confirmed its know-how.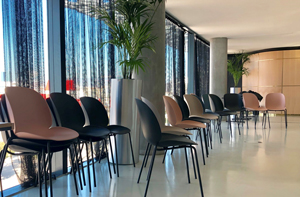 An entirely glazed space, located on the roof terrace of the Mucem, has just been refurbished. The VIP lounge now offers companies an even more attractive and contemporary setting for their meetings, boards of directors or business cocktails.
melville participated in this project by proposing the Beetle chair model from the Danish brand GUBI. A range of chairs in 4 shell colours and black legs matching the lounge's curtains to highlight an elegant and refined tone that corresponds to the spirit desired for this place with its exceptional panoramic view. The Mucem VIP lounge can accommodate up to 90 people. It is a new business tourism offer where the visit of the J4 as well as an exhibition can be easily combined.
Melville develops its activities from Aix-en-Provence
Opened in September 2016, in the city centre of Aix-en-Provence, melville is one of the companies in the "Invest in Provence" community that have benefited from the advice of Provence Promotion.
Franck Mouly, formerly a senior executive in finance, has made his passion his profession and works with many reference brands on his e-shop and on his showcase site launched in parallel with the physical shop.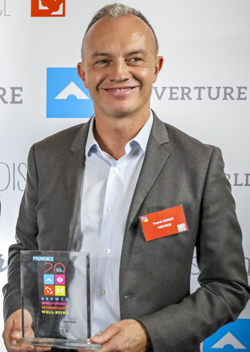 During the annual event organized by Provence Promotion, Franck Mouly received the "Invest in Provence" label alongside business leaders who recently set up or created their business in Provence. A label in the colours of Provence Promotion's 20th anniversary, awarded to promote the creation of its company and its investment in the region. Glad to have chosen the metropolis of Aix-Marseille-Provence for its project, its turnover is currently growing by more than 20% in 2018. Renowned establishments such as the Domaine de Baumanière in Les Baux de Provence, the restaurant du Prieuré in Villeneuve-lez-Avignons or the Maison Gallimard in the Centre Pompidou called on melville in 2018.
> Find out more about business creation in Provence <