Israeli manufacturer of smart infusion systems, Q Core Medical, has established its European headquarters in Marseille due to the strength of the French medical system, particularly with regards to its development of at-home care. The strategic choice of Marseille, both an aerial and maritime hub, was a natural one to ensure smooth import of the company's high tech infusion systems and their distribution to European hospitals, clinics and providers of at-home care. The Q Core Medical team's installation at the Docks in January 2019 was facilitated by Provence Promotion.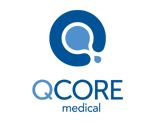 In 2019, exactly ten years after being purchased by the family-owned Eitan Group, Q Core Medical is increasing in scale. The Israeli start-up, which revolutionized drug delivery sytems, is set to become an international group with 200 employees which includes approximately one hundred engineers within the group's R&D division. Q Core Medical is currently building-up its own global distribution network for its smart infusion systems.
After deliberating between several European markets, France was selected, the company's third largest market following the United States and Canada. "By directly distributing our infusion pumps from Marseille, we are strengthening our presence in the French market," states Tally Eitan, President of Q Core Medical. The European headquarters, both a distribution and services hub, opened its doors at the Docks in Marseille in January 2019. Laurent Schektman, fully experienced in the European market thanks to his time at Abbot, Hospira, Pfizer and ICU Medical, heads the commercial unit.
"Marseille, both an aerial and maritime distribution hub"
The personnel should quadruple in order to support the group's marketing strategy whose aim is to reach a turnover of €10M in France within the next five years. "Immediately, Marseille seemed like the obvious choice. The city is both an aerial and maritime distribution hub for our products. The daily direct flights to Tel Aviv, the presence of a large commercial port and without forgetting the quality of life here all informed our choice," explains Shaul Eitan, member of the group's board of directors and CEO of Avoset, one of the group's three subsidiaries.
"The vast offer of treatments in the South of France, with the numerous establishments located in the Aix-Marseille-Provence metropolis alone and the presence of Alliance Healthcare's 6,500 m² logistical platform – a dispatcher and distributor of medication and health equipment – helped convince the manufacturer," adds Laurent Schektman, director of Q Core Medical France. The group also relies on a national after-sales service which includes a workshop located in the vicinity of Marseille, allowing prompt interventions on equipment.
"We are proud to see a growing international health and technology company establish its European headquarters in Marseille. Our city's geographical location is an ideal business hub for Europe and Africa. It also makes it easier to access Mediterranean markets. Q Core Medical's choice confirms Marseille's role as a commercial reservoir in the South of France for vibrant players in the health and technology industry," comments Maribel Sierra, project manager at Provence Promotion, the agency for economic development in the Aix-Marseille-Provence metropolis.
A 10 billion dollar global market
Currently, more than 100,000 Q Core Medical infusion systems are in circulation across the globe. Among its intravenous therapy applications one finds pain management, antibiotic treatments, the administration of medication in the field of oncology, parenteral nutrition, etc. The global infusion market represent 10 billion dollars, half of which is concentrated in the United States and 30% in Europe, a market where France occupies third place.