This international logistics group strengthens its presence in Provence
ID Logistics, previously located in Cavaillon until 2018, inaugurated its new 2,100 m2 headquarters on 11 April in the small community of Orgon near Saint-Rémy-de-Provence. Provence Promotion closely followed the project, notably in terms of the real estate search. The two hectare property, nestled in the heart of the Alpilles natural park, provides a verdant backdrop for the headquarters' 150 employees. ID Logistics, which is experiencing rapid growth, is primarily focused on the quality of work life to retain and attract new talents. This location is poised to welcome prospects and clients under the best possible conditions.
ID Logistics offered itself an exceptional work environment by building its new headquarters in the heart of the Alpilles. With its green roof, the 2,100 m2 sprawling single floor building blends into its Mediterranean surroundings.
The three sun-bathed terraces, the smell of rosemary and the sound of the cicadas would almost make you forget that the site is the nerve center of a global logistical heavyweight. ID Logistics manages over 5.5 million m² spread across 300 warehouses located in 18 countries.
On 11 April, Eric Hémar, the Paris-born CEO of ID Logistics, praised the warm welcome they had received in Provence on the occasion of the headquarters' inauguration and in presence of the large retailers' key customers.
"Our presence in the south coincides with the takeover of the Flèche Cavaillonaise's logistical activity in 2001. We have been well received in Provence and amidst its lavender fields. Our Cavaillon headquarters had become too cramped. These new headquarters, home to our collaborators, illustrates a genuine company project", he stressed. The economic development agency Provence Promotion aided ID Logistics' efforts which eventually led to its headquarters' new location. The 2 hectare plot offers good opportunities for future development as a 1,000 m² extension could be envisioned. Additionally, Eric Hémar announced further new investments in the region with a 55,000 m² building dedicated to specialized large retailers and a 50,000 m² new generation, fully-automated platform.
Doubling the turnover in the next 5 years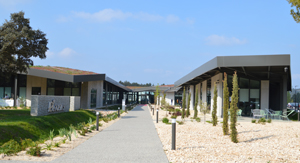 Every last detail was considered to ensure the employees' comfort: fitness room, on-demand sports coach, cafeteria, recreation areas and even a partnership with nearby retailers. Thanks to its large bay windows lining the building's two wings, managers work fully immersed in nature inside a soundproof, open space environment. Everything that is needed to stimulate the imagination and innovation. "We want everyone to feel at ease", explains Christophe Satin, the deputy general director. After having created 150 jobs, at least ten more have been announced.
In 2018, ID Logistics was awarded the "happy at work" label by being ranked France's 10th best company with over 5,000 employees for which to work. "It is not only an administrative site. We enjoy a high-tech environment. In Cavaillon, we did not have access to the broadband which a company operating in a digitized manner requires. Many of our collaborators are mobile. We are moving the digital cursor using a "war room" which pilots all of the IT in the 50 countries where we are present", adds Christophe Satin.
After 18 years of uninterrupted growth, ID Logistics plans on doubling the group's turnover which, in 2018, reached €1.4B, an increase of 6.1% and which includes €685.6M in France alone (+8.4%).