The family brand is expanding in France from the Phocaean city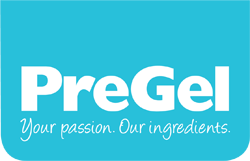 From Copacabana to Capri and from Paris to Sydney, PreGel supplies ice cream makers and pastry chefs around the world with ingredients and semi-finished products. Founded in Italy in 1967 in the Emilia-Romagna region, PreGel has 21 subsidiaries. Since March 2018, PreGel has also been spreading across France from its base in Marseilles where the company set up camp not far from the rocky shores of the Mediterranean. The icing on the cake is that PreGel, with the assistance of Provence Promotion to search for locations and recruit people, has opened the doors of a new training center. In small groups of eight professionals at a time, people learn to handle the 600 reference products in the catalog.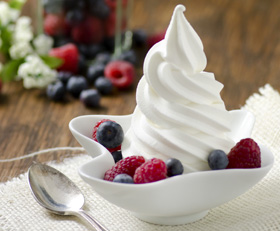 Marseilles was the obvious choice for PreGel in its quest to conquer the French market of ice cream shops, bakeries, and yogurt shops. "Marseilles is at the heart of our client base of independent pastry chefs, artisanal ice cream makers, and chain or mass-market restaurants. Paris is just a day away by road. The greatest density of ice cream makers is along the Mediterranean arc, the first region in terms of ice cream consumption, followed by the Atlantic arc," explains Pierre Catinot, the managing director of PreGel France.
Leading a team of nine people, Catinot intends to promote name recognition of the Italian family company both in metropolitan France and in the overseas departments and territories and Corsica. His main method for promoting it is service. "We are investing in France to bring us closer to our customers so we can provide advice and present new products to them. Certain recipes are unique such as the St. Tropez pie ice cream, the calisson candied fruit ice cream, and the Marseilles-inspired navette cookie ice cream. New products account for close to 7% of our sales figures," Catinot specifies. The brand has a thick catalog of 600 references for ice creams, sorbets, soft drinks, and frozen yogurts.
A training center to break the ice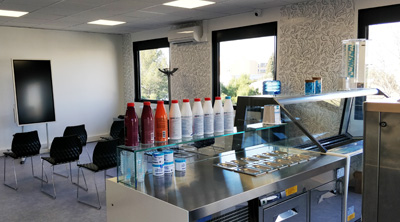 In newly built facilities, the company has 450m² of offices, a 150m² training center, and a 1,000m² depot for storing products imported from the Italian company's factory and brought in daily in trailer trucks. "Service is the added value provided by our subsidiary. We have a schedule of weekly classes on specific themes available for professionals to assist them with all aspects of their jobs. These three- to five-day training courses have both theoretical and technical components. Christophe, our demonstrator technician, also travels to customers with his samples. Our company's philosophy is to make high-quality frozen treats available to as many people as possible," Pierre Catinot adds.
PreGel also offers customized packaging and recipes. In France, the company has major ambitions for the country.
PreGel has two production facilities in Italy and in Charlotte in the United States for a total area of over 80,000m².