Compose a customized lunch at the Compose canteen in Marseilles. A world of freshness and variety awaits at the ingredients bar to create the perfect salad, dish, sandwich, or even pizza. Entrepreneur Thierry Odier is passionate about gastronomy. For the past few months, he's been developing this Parisian concept for downtown Marseilles. With the help of Provence Promotion, he has launched his project and found his strategic positioning. Located near the Old Port and Courthouse, the bright, pleasant space has outside and inside areas, plus a thoughtfully decorated patio. A regular crowd of customers looking for healthy, delicious, balanced cuisine has already found its way there. With his first location outside Paris, Thierry Odier, who loves Marseilles and great ingredients, is returning to a city close to his heart and achieving incredible results. A click-and-collect service has recently been launched, plus Uber Eats delivery and other options.
Since March, Thierry Odier has been working the door of his custom canteen Compose every morning in Marseilles. His joy is both professional and personal. After several years working for large groups in mass retail product sales, as well as in the luxury industry, Thierry Odier wanted to go back to his roots. The son of an artisanal baker, he loved the culinary world and quality ingredients, and longed to live the entrepreneurial life. When he met the founder of the Compose brand, that was the key moment that made him retrain and start this new adventure.
"Customized" support
"Provence Promotion then played a customized support role," explains Thierry Odier. "The teams, whom we met at the Franchise Expo 2018, put us in touch with real estate agents, but also with legal and banking organizations, which allowed us to have a wraparound set-up process. And it was thanks to an exclusive brand license that the project came to life."
Up until now, Compose only had a Paris location. Developing the brand in the South of France offers wonderful growth opportunities. The "healthy" market is enjoying strong growth tied to the rise of organic, package-free, and local food. Consumers are increasingly concerned about what they put in their mouth. Marseilles is no exception to this national trend, which also corresponds to a return to authentic ingredients. So, Compose cooks only with fresh ingredients from the market, and uses an environmentally-responsible approach. There are currently nine employees.
Variety, quality, and freshness
Everyone can craft a personalized dish. With about 15 bases to mix and match with about 40 ingredients, there is plenty of choice. It's the same idea with sandwiches and pizzas, with the assurance that they will be made with fresh ingredients.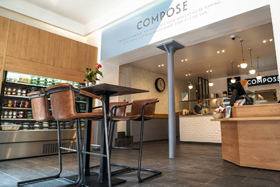 To serve office customers, Compose has recently launched a click-and-collect service, and has just been listed on Uber Eats. Still, unlike in Paris, in Marseilles customers do like to take a little break. At lunch or breakfast time, they come to enjoy one of the three areas offered by the space: inside, patio, and outside. In total, there are around 40 seats and a good mood to share, because Thierry Odier believes that this project relies on one motive above all: rebuilding direct contact with customers. He takes good care of those customers and keeps them coming back, especially thanks to a rewards card.
Compose is open all summer long, and in the medium term, Thierry Odier aims to open at least three other locations in Bouches-du-Rhône.