Provence and Tunisia are about more than just tourism. Indeed, digital innovation is at the core of development opportunities. Relations are being strengthened around start-ups that are sparking new collaborations. Created in 2016 in Tunis, start-up studio Factory 619 is helping to push this wave, with the launch of Factory 319 in Marseille. With this facility, the goal is to set up a win-win apparatus for Tunisian and Provence start-ups, with Tunisia serving as the gateway to Africa and Aix-Marseille-Provence to Europe. Hichem Radoine, Managing Director of Factory 319, provides all the details on the opening of the start-up studio in the region and its partnership strategy.
Hichem Radoine is driven by a desire to take on new challenges. An expert in finance and business strategy, he recently formed Factory 319, equipped with a facility for welcoming Tunisian start-ups with potential for growth in Provence.
The idea came following his meeting with Dr Hédi Michau, the Founder of start-up studio Factory 619 in Tunis, then in the stages of developing his own e-health start-up, Katomi. With his concept validated, he needed to find growth drivers. Factory 319 will now be this driver, providing African start-ups the chance to target international markets by setting up a location in the Aix-Marseille-Provence metropolis.
Synergies between the two shores of the Mediterranean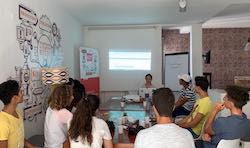 With Factory 319, Hichem Radoine sees an opportunity to promote innovation on both sides of the Mediterranean. Drawing on his professional experience in digital technology in the Aix-Marseille-Provence region and on his Tunisian origins, he has built momentum between the two ecosystems.
With Provence Promotion and Euroméditerranée, currently working on a joint project in Tunisia, Hédi Michau and Hichem Radoine finalized in May 2019 the creation of Factory 319 in Marseille. Established in the business district of Joliette, the accelerator propagates partnerships throughout the entire network, including Marseille Innovation, the accelerator "M" and Anima Network. The agreements concern close collaborations in project sourcing, a strategy for activating as many synergies as possible and for successfully connecting start-ups with good partners.
All this is part of an initiative to strengthen North-South relations in the Mediterranean. This includes examples such as the creation of the Africalink network by the Marseille Chamber of Commerce and Industry in 2017 or the organization of events such as the Summit of the Two Shores held on 24 June in Marseille.
619 and 319 as complementary forces
Since 2016, Factory 619, as a start-up studio and coworking site, has encouraged innovation and supported young Tunisian entrepreneurs, primarily in the fields of e-health, gaming and IoT. Its mission is to help all project leaders transition from the idea phase to the creation phase. Free support is offered in exchange for a commitment to helping its young up-and-comers. A team of 10 developers provide them with a wealth of technical skills on which to draw to validate and develop their concepts. This support can then be expanded with Factory 319 to acceleration and then internationalization.
Tunisian start-up Smart Box, which specializes in re-using maritime containers as housing, annex structures, offices, etc., decided to make the leap and set up shop in Marseille to drive up growth. Two additional start-ups should soon follow: Hablo, a smart solution for detecting and analyzing babies' cries, and Afrostar, a platform for discovering African talent in the art world.
On the other side, Factory 619 is open to Provence start-ups for the proof-of-concept phase (PoC) or for the exchange of skills.
Several calls for applications ongoing
Factory 619 and 319 are currently involved in several calls for applications linked to a number of events:
A Discovery Trip for a Marseille delegation in Tunisia from 23 to 27 September 2019
About a dozen regional players specializing in start-up support will visit sites dedicated to innovation, including Factory 619, and will meet with Tunisian project leaders
 
Emerging Valley 2019 in December at thecamp – Aix-en-Provence
Factory 619 is renewing its partnership in order to shed light on Tunisian start-ups. Ten Tunisian start-ups, selected following a call for applications (https://ev2019.foundpad.com/), will take part in the Marseille event organized by StartupBRICS.
 
An Investment Readiness Bootcamp in September in Tunis
The plan is to train about a dozen Tunisian start-ups to better organize their capital raising campaigns on an international stage. One start-up will present their results in front of an audience of angel investors during the Sophia Business Angels' Venture Academy in October in Nice. Three experts from thecamp, members of EBAN (European Business Angel Network), are also expected to participate in the bootcamp.