Flower Burger is a fast food brand with with flamboyant colours and a lot of flavours. Its concept of Italian origin was founded in 2015 on an innovative idea by Matteo Toto: to produce vegan burgers, 100% vegan, made exclusively from vegetables, spices and vegetable matter. This franchise currently has eleven restaurants in Italy and one in the Netherlands. In the current trend of environmentally and animal-friendly food, Flower Burger is expanding its network in France by opening its first restaurant in Marseille in the Joliette business district, Euroméditerranée. With its 70's look inspired by the Flower Power hippie movement, the atmosphere is friendly and full of energy. This new place, with a seating capacity of 20, is to be discovered as much as its colourful burgers. Supported by Provence Promotion, Ian Evans, manager of this franchise, welcomes you for a new taste adventure.
In the fast food sector, projects and concepts are evolving. They follow trends, take care of their communication, take more and more original and playful. Many also strive to offer quality products to an urban clientele that is increasingly concerned about their food. Flower Burger is one of these brands. Since its creation in Italy, thanks to its tasty and colourful burgers, it has been a success. Milan, Rome, Turin, … and recently Rotterdam, the network is expanding rapidly.
Growth strategy in France and Europe
It was by joining the Franchise Fair in Paris that Ian Evans, in search of a professional project related to gastronomy and vegan food, identified the concept. He then started planning to open a brand in Marseille. This project is perfectly in line with the network's growth strategy, which sees development opportunities in France.
The timing could not be better with 2019 being the year of gastronomy in Marseille Provence, MPG 2019, and the location more perfect with the wish of local authorities to see attractive, healthy and eco-responsible catering solutions emerge. Matteo Toto, the founder, quickly became convinced of this. After several meetings with Provence Promotion and business creation consultants, the project was launched.
Other openings in France are under study, especially in Paris. Flower Burger also wants to expand into the European market, in the United Kingdom, Austria, Spain and even in Finland.
Inauguration in Marseille of the 1st French Flower Burger
The inauguration of the first French Flower Burger took place in June 2019 in Euroméditerranée, Marseille's business district. The founder's concept is fully respected from the restaurant's interior design to the recyclable cutlery.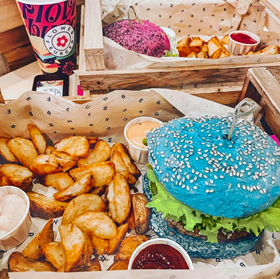 The menu of course offers the same panorama of colours and flavours. The traditional beef steak is replaced by a steak of lentils and basmati rice, smoked tofu and peas, Seitan and red beans. Faithful ingredients of its success, its Magik, Rocktail, Tartarella, Spicy, or mushroom sauces, its vegan cheese and other side dishes such as the famous edamame beans or Savory potatoes make it an excellent culinary discovery. Every quarter, a special edition burger is prepared. This fast-food restaurant also offers gluten-free food.
To date, the Flower Burger franchise network employs around sixty people.