BioFIT holds its two-day conference in Marseille on December 10 and 11, 2019, at the Parc Chanot. The event brings together biotechnology companies, major pharmaceutical groups, public research institutes and investment funds in the health sector. Its goal is to facilitate partnerships, technology transfers and licensing agreements.

This European gathering is being held in Marseille for the first time. It is a formidable opportunity for Provence Promotion and its partners to showcase the research excellence on offer in Provence. Prior to the trade show, Provence Promotion, along with Rising Sud and its partners, arranged a tour of the region for about 30 foreign companies. Today, the CEO of pharmaceutical biotech firm Ipsomedic, which was founded recently in Marseille with the support of Provence Promotion, will talk about her own experience in the region at a meet-up to take place at 5 pm at stand E23.

Companies, research organizations and investors are invited to come learn about the rich life sciences ecosystem in southern France at stand E23, a space shared by the local authorities, the SUD Provence-Alps-Côte d'Azur region, the Aix-Marseille-Provence Metropolis and the City of Marseille. These forces have united alongside several partners from the fields of health, R&D and economic development ‒ including Provence Promotion ‒ to boost the region's visibility. The BioFIT show expects to host 1,300 participants and many B-to-B exchanges have been scheduled.
Why BioFIT in southern France?
In the field of biotechnology, and more generally in the health sector, Provence offers many benefits.
Its start-ups continue to grow. Some of the remarkable success stories include Innate Pharma's strong debut on the NASDAQ in October 2019; ImCheck Therapeutics, which raised more than €70 million in just two years; and Provepharm Life Sciences, which is growing internationally and obtained a syndicated loan for over €42 million.
The region is also a hotbed for start-ups with strong growth potential, such as Diamidex and HalioDX, which is capitalizing on the work of Jérôme Galon, a French immunologist at Inserm who was recently honored with the European Inventor Award 2019.
This vitality, which is driven in large part by public research institutions (CNRS, Inserm, IRD, etc.), explains why Marseille was picked to host, making it the epicenter for European biotech business and partnerships for the two-day event.
What makes Provence appealing for biotechs?

Edith Lecomte-Norrant just founded Ipsomedic in Marseille; she will talk about the region's appeal at a meet-up today at 5 pm hosted by Région Sud, Rising Sud, Eurobiomed and Provence Promotion at stand E23.
This scientist came to Provence to develop a continuous molecule purification system for use in the pharmaceutical and bio-pharmaceutical industries, but that also has applications in cosmetics, agribusiness and chemicals. She says, "I am extremely pleased with my move to Marseille from all points of view: support and assistance, introductions, networking with investors, potential customers, etc. All the conditions here are right to ensure my project succeeds."
The meet-up will be followed by a cocktail reception and plenty of opportunities for discussion.
"Life Science Tour in Provence": the event before the event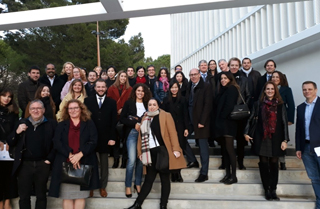 In Monday, December 9, 2019, about thirty foreign companies took part in a field tour of the life sciences ecosystem in Provence.
Representing 14 different countries (England, Finland, China, Netherlands, United States and more), they met at the Georges Charpak campus in Gardanne before heading to the Luminy site in Marseille.
The life science business program took them on a customized itinerary that included field tours and presentations. Featuring hosting facilities, major research hubs and company testimonials, the tour showed participants they key components of the region's biotech-medtech ecosystem and the incentives to develop and invest in Provence.