Theodora City, a 30,000 m2 digital campus, will open its doors in 2023. Located near the Capitaine Gèze multimodal hub, on the edge of the Euroméditerranée site (currently in phase 2), it is expected to employ nearly 2500 people.
A structuring project for the territory
Kevin Polizzi, founder and chairman of Jaguar Network and head of the BtoB Division of the Iliad Group (Free) since last year, is writing a new chapter in the digital history of Marseille. Through his company Foncière Jaguar, he has invested €100m in the construction of "Théodora", an upcoming smart neighborhood that is already shaping up to be a top-tier developmental project.

With its 30,000 m2 of sustainable buildings packed with technological innovations, the site will be a welcome home for companies looking to accelerate their digital transformations and learn all they can about new digital jobs. This ambitious program is expected to create 2,500 jobs by 2023, and once again demonstrates Polizzi's deep-rooted attachment to the city. His goal? To help transform the region alongside the Euroméditerranée urban renovation program and the Les Fabriques district. To accomplish this ambition, he is counting on the growth potential and international profile of the Aix-Marseille-Provence community.
Founded in 2001 by Kevin Polizzi, Jaguar Network has since had a meteoric rise, enough to draw the attention of Xavier Niel (Free), head of the Iliad Group, who acquired a 75% stake in the Marseille-based upstart in 2019. The visionary Polizzi is now getting ready to kick off the new "Théodora City", a 30,000 m2 hub of innovation and community located in Les Aygalades, in the 15th arrondissement of Marseille, which will open its doors in 2023. At the intersection between highway A7 and A55, its exceptional strategic location will be easily accessible to its 2500 future employees.
An ultra-connected location

The smart neighborhood will be located just a few cable lengths away from the 16 underwater communication cables that link Marseille with 4.5 billion people in Asia, Africa and the Middle East. For Jaguar, which operates cloud infrastructures and sovereign data centers, quality and speed of communication are key to its choice of location, particularly at a time when 5G is preparing to enter the market.

"We are in one of the best-connected areas in Europe. It's also one of the best sites just outside Euromed 2, as it is located right across from the last metro stop on the Capitaine Gèze line, where the streetcar line will be arriving in 2023. The future Parc des Aygalades, with its stream that cuts right across the plot, will be a breath of fresh air for the city," says Polizzi. With Foncière Jaguar and the help of a few banks, he is investing €100m in a project that perfectly synergizes with Euroméditerranée. The latter project is currently in phase 2, where it will begin construction on the Les Fabriques eco-neighborhood.
From smart buildings to smart neighborhoods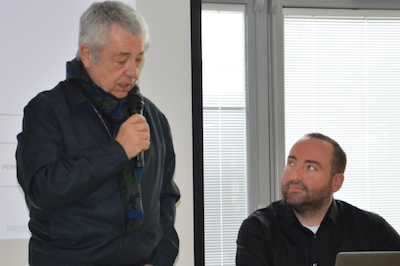 After unveiling Quanta in 2018—a positive-energy head office, with an R&D center and a On[e]Life incubator for the healthcare industry—Polizzi now wants to replicate this model with the architecture firms Carta Associés and VLEG. "Théodora will bring together a number of men and women who invest in R&D and training. The site has to be environmentally friendly, and we're considering solutions to make the building sustainable, technology-compatible, and not too costly," says architect Roland Carta.
"We experimented with bringing innovation players together on the Quanta site, which hosts around twenty data-using companies, many of which are in the life sciences sector. We've shown that it works for a building, and now we're going to demonstrate that it can be duplicated for a whole neighborhood. By assembling an array of digitally conscious companies in one place, Théodora will be an open toolbox," says Polizzi. And with its 3,000 m2 of offices devoted mainly to customer service, the cornerstone of this new ecosystem will be Jaguar Network.
27,000 m2 of offices, where quality of life is no afterthought
Concerned about the welfare and living standards of employees, Polizzi is already working on a smart mobility solution, with a fleet of autonomous vehicles and a shared data platform. "Starfleet will be a link in the multimodal chain that will round out the current range of public transport offerings. We need to maximize lull periods and achieve a better work-life balance," notes Polizzi, who is also the Managing Director of the Medinsoft business cluster.

27,000 m2 of offices will be provided. The goal is to create a space that facilitates intellectual mobility as well, a place where people can come together to discuss topics such as smart cities, industry 4.0, or healthcare.

"We're investing in AI to offer additional training to employees. We want to help people and companies transform themselves, while bringing technology to Marseille. We're open to cultural and creative industries, smart ports, you name it," says Polizzi, whose success story was just recently recognized in Figaro Magazine's Choiseul list, which ranks the country's top business leaders under 40.
Source Link: https://www.investinprovence.com/en/news/jaguar-network-invests-eu100m-30000-m2-smart-neighborhood-marseille