Benoît Serreau and David Lecesne, respectively General Manager and President of the company RI CND
The Norman company RI CND deploys its diversification strategy in Provence
Founded in 1981, RI CND specializes in industrial testing. This family-run company, having long been based exclusively in Normandy and operating mainly in the petrochemical sector and the radiography testing market, has now expanded its horizons southwards. It can boast a number of key areas of expertise that will be of benefit to local industry. Provence Promotion has provided vital support as it opened a branch in Martigues. Managing Director Benoît Serreau explains the advantages of this geographical, technical and market diversification.
Over nearly 40 years, RI CND has built an excellent reputation for itself in "nondestructive" industrial testing in the petrochemical sector. Its historical portfolio includes such clients as Total in Gonfreville-l'Orcher and ExxonMobil in Notre-Dame-de-Gravenchon. Its mission is to inspect structures and components to ensure that they are in good condition, either before initial commissioning or during maintenance operations.

Although operating in an industry sector in which the number of players has become highly concentrated, RI CND has maintained its independence and continued to meet its clients' evolving needs. Over the last two years, the Normandy Company has been engaged in a strategy of diversifying its geographical bases, with new operations in Nantes, Paris, Lens and now Martigues. The opening of this first branch in the South of France is a crucial stage in its development, focusing on the search for new market opportunities.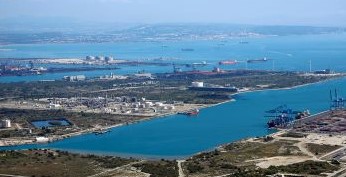 "Martigues is at the heart of a large petrochemical hub, which we see as a platform we can use to develop our business activity. The key advantage of this location lies in the fact that it gives us access to a diversified industrial structure: we see this geographical region as a reservoir for growth. Our aim is to offer our specific services to players in the refining sector, such as storage tank testing and non-radiography testing techniques, but also to win new clients in the chemical, gas and nuclear industries, as well as naval," explains the firm's Managing Director Benoît Serreau.
"Throughout our expansion project, the Provence Promotion agency has listened to our needs. It has given us a clear insight into the local area, and valuable advice which has directed our local approach," he adds.
Accommodating changes in the industry without losing its identity
Having initially specialized in industrial radiography, which still accounts for a large part of its turnover, the company is now acquiring expertise in ultrasound methods, penetrant testing and magnetoscopic testing, covering the full spectrum of non-destructive testing; that is, testing which does not require the disassembly of components and thus extended equipment downtime.
In support of its transformation, RI CND will very soon be changing its corporate name to Inexco. Its customer-focused approach, featuring tailored solutions, process expertise and availability, will remain unchanged. These are qualities which, during the lockdown, have enabled the company to maintain its operations and even win the trust of new customers, particularly in southern France: "Providing a specialist service to major groups is our trademark. It's an identity that we intend to maintain in the long term," Serreau states.
Over two years, thanks to its new diversification strategy, the company has more than tripled its headcount, growing in size from 30 to nearly 100 staff. To date, 13 staff have been recruited in Martigues, and four more are expected to join them by late 2020. "Our presence in Provence is in response to strong demand from the local market. We were sure this would be the case, and the first few months of operations have confirmed our belief. In fact, the Martigues branch has even exceeded our forecasts; and if things continue in this vein, we can see our way to creating further jobs in future," he continues.
RI CND regularly renews its certifications (Mase and ISO 9001), and is currently working towards COFRAC certification.
Source Link: https://www.investinprovence.com/en/news/nondestructive-industrial-testing-specialist-establishes-base-martigues