Follow-up of the setting up of this specialist in urban bicycle delivery
In 2021 a low-emission zone (LEZ) will be launched in Marseille and TOUTENVELO's Marseille subsidiary may well see its activity increase tenfold in the years to come. As the last link in the distribution chain, its carbon-free bicycle delivery solution is a response to forthcoming regulations in major cities that will limit the presence of polluting vehicles in city centers to improve air quality. The Marseilles entity created just one year ago is part of a growing national network. Nine franchises have been created in two years. They take the form of cooperatives, the first of which was launched in Rennes in 2018. TOUTENVELO is of particular interest to logistics providers who appreciate being able to entrust their goods to this new player for last-mile delivery.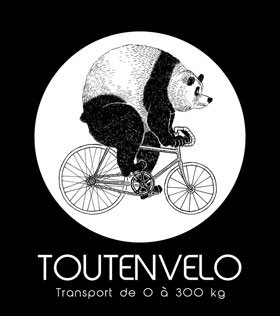 Two motivated shareholders, Marguerite Pierson and Thomas Croizé, pedal daily through the heart of Marseille to make all kinds of deliveries: parcels, furniture, plants, meals and more. For the past 5 months, they have been transporting more than 10 tons of merchandise every month. It's a physical and logistical feat!
The engineers, who studied respectively at Centrale Marseille and AgroParisTech, chose to turn their passion for cycling and their environmentalism into a job by creating TOUTENVELO Marseille in November 2019.
TOUTENVELO comes to Marseille
Thanks to a three-year provisional lease granted by EPA Euroméditerranée, the company currently shares space between Ici Marseille and the Smartseille real estate initiative with Les Alchimistes, an association that collects, sorts and repurposes green and food waste for businesses and local authorities. Les Alchimistes participated in the MOVE (Massalia Open Village Experience) call for transitional urban planning projects and was selected to occupy this space on the edge of the future low-emission zone.
Given their eco-friendly values, the social enterprise Les Alchimistes and the bicycling transport specialist TOUTENVELO came together naturally owing to the complementary nature of their offers.
Thomas Croizé relocated from Seine et Marne to work in Marseille. After starting his career as an employee, he decided to settle down there, but to become an entrepreneur. Supported by the Aix-Marseille-Provence Metropolitan Area, and backed by Provence Promotion, he oriented his business towards individual consumers, merchants and companies such as logistics providers and carriers.
Early signs of growth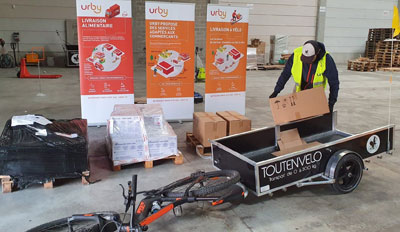 "Urby, a subsidiary of La Poste, put its trust in us. We began collaborating a few months ago. Each day we pick up parcels from the delivery docks at the Arenc logistics platform to take them to end customers throughout the city center, from the first to sixth arrondissements.
We are flexible and faster than our colleagues who travel in vehicles because we can avoid traffic jams and move better through traffic. In addition, we can go into pedestrian-restricted areas and places that trucks cannot access after 10 am," explains Thomas Croizé.
"During the lockdown, we had lots of requests. We jumped into action to deliver meals from short distribution circuits to the La Joliette market. It was a time when independent bicycle delivery people made a name for themselves and proved their usefulness and their efficiency," says the budding entrepreneur, who benefited from participative financing and a no-interest loan from SCOP PACA to start his business.
Developing a new distribution chain
The creation of a new distribution chain should result in a plan to pool local logistics hubs and will feed synergies achieved by arrondissement and by merchandise type. Each provider is a credible specialist within a five-kilometer radius; they can guarantee delivery times for quick runs and the distances to be covered by each bicycle messenger.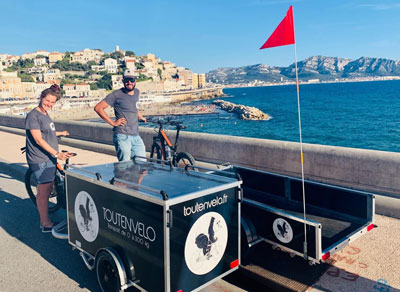 "Within our area, we can pedal safely on 30 kilometers of bike lanes, from the Old Port to Les Réformés and the full length of the Corniche on the seafront. New bike lanes are being explored and, like many Marseille users, we hope they will be available soon," concludes Thomas Croizé.
With a fleet of three electric all-terrain bikes and three delivery trailers that can carry loads up to 300 kilograms, TOUTENVELO offers a service that is specifically suited to urban dwellers. .
A flat rate starting at 50 euros for all pick-ups and deliveries to a building's front door and on-demand rates for moves
TOUTENVELO Marseille is currently seeking an intern to improve its online presence. The company also plans to hire another employee before the end of 2020 and to acquire one more bicycle and another made-in-France trailer made by the network's Rennes branch.
Source Link: https://www.investinprovence.com/en/news/toutenvelo-marseille-new-player-urban-logistics